Basics
Statistics
Government Documents
US Census
Citing Government Sources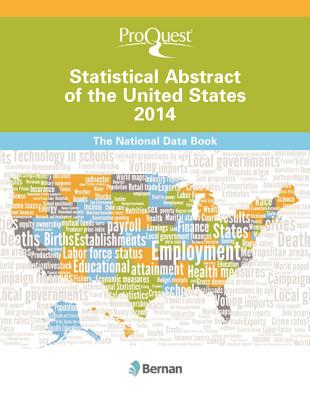 2014 ProQuest Statistical Abstract of the United States (print Reference  HA 202 .P76 2014) 
A carefully selected collection of statistics on the social, political, and economic conditions of the United States, it is a snapshot of America and its people. Thousands of tables from hundreds of sources and valuable, detailed bibliographic documentation.  You can also find the 2012 U.S. Census online (131st edition).
OECD Factbook 2014: Economic, Environmental, and Social Statistics (print Reference HC 59 .15.O33 2014)
A comprehensive and dynamic statistical annual publication.
State Rankings 2014: A Statistical View of America (print Reference HA 214 .H68 2014)
Information Plus Series
Available behind the reference desk and online through Opposing Viewpoints in Context database. This series compiles data, both current and historical, on a wide variety of contemporary social issues.
Opposing Viewpoints in Context Full Text. Pro/Con articles on a variety of subjects, statistics, and a wide variety of other reference and periodical sources. Via Gale. Also available behind the reference desk
Washington State Statistics
Washington State Data Book
Information obtained from state and federal agencies as well as private business on Washington, its people, economy, and government in 11 sections: Population, Economy, State Government Finance, Human Services, Criminal Justice, Education, Natural Resources, Environment, Energy, Transportation, and Local Government.
City and County Data for Washington
Links to information about Washington counties, including collections of general information as well as a variety of sources dealing specifically with population, the economy, and county government finance
Washington's Population
As the official partner of the U. S. Census Bureau for Washington state, the Population unit helps disseminate information about the characteristics of Washington's population, housing, and economy.
Washington Trends
State economic, demographic, and social trends
Washington Health Data
Washington Dept. of Health
Washington Statistical Analysis Center for Criminal Justice Information
A clearinghouse for state criminal justice information such as arrests, felony sentences, incarceration, and sex offenders.
Washington Transportation Maps and Data
Collision, travel, and roadway data
Washington State Data
Search and browse hundreds of datasets related to Washington
Washington State Geospatial Portal
Access to geospatial technology resources, products, and services for schools, state agencies, counties, cities, tribal governments and the public
Federal Statistics
FedStats
Provides access to the full range of official statistical information produced by the Federal Government. More than 100 agencies provided data and trend information on such topics as economic and population trends, crime, education, health care, aviation safety, energy use, farm production and more.
Statistical Abstract Series
Comprehensive summary of statistics on the social, political, and economic organization of the United States from 1879 – 2012.  (Current edition available via print Reference  HA 202 .P76 2014).
Bureau of Economic Analysis.  The BEA produces and disseminates economic accounts statistics that provide a comprehensive, up-to-date picture of economic activity.
Bureau of Transportation Statistics
Includes access to databases, articles, and journals on all areas of transportation.
Economics & Statistics Administration
ESA's expert economists and analysts produce in-depth reports, fact sheets, and briefings on policy issues and current economic events. Includes economic indicators.
Bureau of Justice Statistics 
The BJS is the primary source for criminal justice statistics in the United States. The site provides links to publications, data collections, data analysis tools; related links to topics such as corrections, courts and sentencing and crime type; and a link to other federal agencies which fall under the Department of Justice, e.g. the Bureau of Alcohol, Tobacco, Firearms and Explosives, Federal Bureau of Investigation (FBI), U.S. Citizen and Immigration Services, and U.S. Immigration and Customs Enforcement.
Bureau of Labor Statistics 
The BLS serves as a statistical resource to the Department of Labor.
Consumer Price Index (CPI)
Monthly data on changes in the prices paid by urban consumers for a representative basket of goods and services.
National Center for Education Statistics (NCES)  
The mission of the NCES is the collection and analysis of education related data.  Among other features, the site provides links to publications and surveys, data and data analysis tools, and annual reports.
Food and Agriculture Organization statistical database (FAOSTAT)
Contains over 1 million time-series records covering international statistics in: production, trade, food-balance sheets, food aid shipments, fertilizer and pesticides, land use and irrigation, forest and fishery products, agricultural machinery, population, and more. From the United Nations.
International Statistics
United Nations Statistics Division – Access their publications as well as their data.
UN Data – Search a number of UN statistical databases from a single search box. Search for statistics from all UN member nations on commodities, agriculture, health, greenhouse gases, development, gender, labor, population, tourism, food security and more.
UNESCO Institute for Statistics – "…cross-nationally comparable statistics on education, science and technology, culture, and communication…."
Washington State Government Documents
The nearest depository library for Washington State government documents is Western Washington University, in their Government Documents collection.
Washington State Government Documents – a guide from WSU
Federal Documents
GovInfo
This site provides free online access to official publications from all three branches of the Federal Government and allows you to, search or browse for documents and publications alphabetically, by category, by Congressional committee, and by date.
**Latest: 2010 United States Census**
Other Cool Things from the U.S. Census
American FactFinder
An interactive, searchable database maintained by the Census Bureau, includes Decennial Census, American Community Survey, Economic Census, and other data sets. Allows users to compile census data into tables, maps and downloadable files, which can be viewed or printed.
World Population Clock
Recently updated with features and information for 228 countries. In addition to featuring the 10 most populous countries, already available in the clock, it now includes country profiles with trade and population statistics, such as total population, population per square kilometer, and goods exported from and imported to the United States. Additional features include graphics on population projections and top exported goods by U.S. state or territory.
Interactive Maps
Work with interactive mapping tools from across the Census Bureau.
Economic Census
The Economic Census is the U.S. Government's official five-year measure of American business and the economy. Latest edition is 2012.
Publications by Topics
Subjects covered: Education, Employment, Families & Living Arrangements, Health, Housing, Income & Poverty, Population.
Statistics of U.S. Businesses
Provides national and subnational data on the distribution of economic data by enterprise size and industry. SUSB covers most of the country's economic activity. The series excludes data on nonemployer businesses, private households, railroads, agricultural production, and most government entities.
General Format
Government, Agency. Title of Work. Printer, YEAR.
(Based on the MLA Handbook, 8th Edition, 2016.)
Example 1
New York State, Committee on State Prisons. Investigation of the New York State Prisons. 1883. Arno Press, 1974
Example 2
United Nations. Consequences of Rapid Population Growth in Developing Countries. Taylor and Francis, 1991.
Note: Congressional publications can also include the number and session of Congress, the chamber, and the type of number of the publication.
Example 3
United States, 109th Congress, House, 2nd Session, Permanent Select Committee on Intelligence. Al-Qaeda: The Many Faces of an Islamist Extremist Threat. Government Printing Office, 2006.  House Report #615.
In-Text Citations
Give all the names of the agency units in the parenthetical citation.
Example 1
(United States, Dept. of Labor 147)
Example 2
(United States, Congress, House, Permanent Select Committee on Intelligence 237)