Objective: To support student research in the Nursing program and all students conducting research in Health topics.
General Healthcare Research
Browse @ the Library
RTo browse medical books in the library, see the R sections.
Learn from Scholarly Books
Dictionaries & Manuals
American Heritage Dictionary of Medicine, 2015 (via Credo Reference)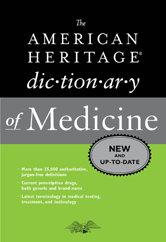 "…reflects the latest developments in medicine, with entries featuring newly approved medications, advances in genetics and immunology, recent changes in the terminology of diseases and syndromes, and new psychiatric classifications introduced in DSM-5."
Barron's Dictionary of Medical Terms, 6th ed. 2013 (via Credo Reference)
Over 7,500 entries from Barron's Educational Series.
Diagnostic and statistical manual of mental disorders: DSM-5 (print Reference RC455.2 .C4D536 2013)
Standard reference for clinical practice in the mental health field.
Medline Plus: Merriam-Webster Medical Dictionary
Merck Index (print Reference RS51 .M4 2013)
Comprehensive reference work on organic chemistry that provides information on thousands of substances and structural formulas.
Encyclopedias
Harvard Medical School Health Topics A-Z, 2013 (via Credo Reference)
679 entries of "In-depth descriptions of the most common diseases, symptoms, procedures, and tests written by Harvard Medical School faculty members."
MedlinePlus: A.D.A.M. Medical Encyclopedia
"…includes over 4,000 articles about diseases, tests, symptoms, injuries, and surgeries. It also contains an extensive library of medical photographs and illustrations."
Multimedia Medical Encyclopedia
From the University of Maryland Medical Center.
Salem Health
Follow the links to search these online reference books or use the call numbers to find the physical copies in the library's reference collection.
Magill's Medical Guide, 7th ed. (RC41 .M34 2014 v.1-5)

1,200 articles covering "diseases, disorders, treatments, procedures, specialties, anatomy, biology, and issues."
Addictions & Substance Abuse (RC563 .A356 2013 v.1-2)
400 essays. Topics include substances of abuse, treatment and addiction overviews, organizations and foundations dedicated to treatment and prevention, physiological and psychological issues and behaviors, trends and statistics, and social contexts and concerns related to substance abuse and treatment.
Cancer (RC265 .C336 2009 v.1-4)
800 entries that provide concise overviews of cancer biology, causes, therapies, and related social issues.
Complementary & Alternative Medicine (R733 .C66 2012 v.1-4)
800 essays on history, alternative vs. traditional medicine, children's health, insurance coverage, pain management, and spirituality.
Genetics & Inherited Conditions (RB155.5 .G4616 2010 v.1-3)
459 essays on diseases, biology, techniques, methodologies, genetic engineering, biotechnology, ethics, and social issues. 
Infectious Diseases & Conditions (RC111 .I4577 2012 v.1-3)
610 essays on all aspects of infectious diseases including pathogens and pathogenicity, transmission, the immune system, vaccines, diagnosis, prevention, treatment, drug resistance, epidemiology, history, organizations, research, and social concerns such as aging, poverty and disease, children and disease, stress, quarantine, and bioterrorism.
Psychology and Mental Health (BF636 .P86 2010)
This comprehensive set covers notable theories, people, social issues, life stages, the physiology and anatomy of the nervous system, and various mental illnesses or conditions.
Visual Learning
"Health & Medicine" collection from FilmsOnDemand. Thousands of videos on a wide variety of health related topics, most include full transcripts.
Stanford Health Video Library   
The Stanford Health Video Library programs feature prominent doctors presenting the latest health research.
Top Nursing Sources